The Answer Guide
What is Energy Star®?

---
Are Energy Star-backed system as comfortable and efficient as non-Energy Star systems?...
Does Energy Star Help the Environment?
ENERGY STAR is the government-backed symbol for energy efficiency. It identifies homes and more than 40 types of products and services that meet strict guidelines set by the U.S. Environmental Protection Agency (EPA) and the U.S. Department of Energy (DOE). With ENERGY STAR, consumers can save energy and money without sacrificing performance.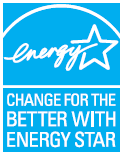 EPA also provides important recommendations on products and installations to get the most in comfort and energy savings. Saving energy will also help protect the environment by reducing air pollution and global warming associated with energy production.
Help Protect the Environment
Did you know that the average home produces twice the greenhouse gases as the average car? In fact, 15 percent of all greenhouse gases are generated from the energy used in houses nationwide.
Energy used in our homes often comes from the burning of fossil fuels at power plants, which contributes to smog, acid rain, and global warming. Simply put, the less energy we use in our homes, the less air pollution we generate.
For more information visit www.energystar.gov and click on home improvement or call 1-888-STAR-YES (1-888-782-7937).
Source: U.S. Department of Energy